12th Annual Carlos Pérez del Toro University Essay Contest
Licenciatura en Contaduría Pública y Estrategia Financiera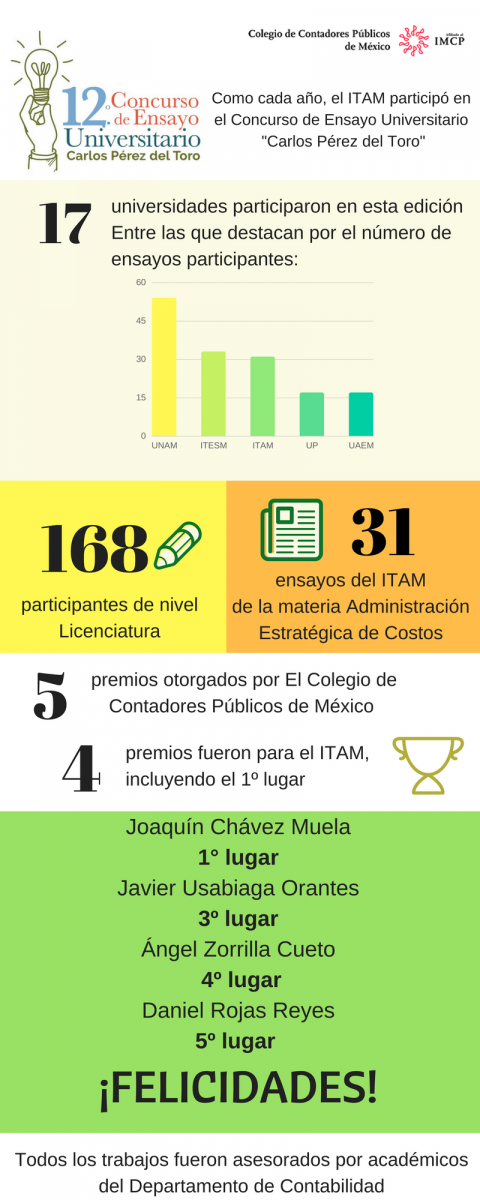 The College of Public Accountants of Mexico (CCPM) and the Editorial Board of Veritas magazine held the award ceremony of the 12th annual edition of Carlos Pérez del Toro University Essay Contest on Thursday, February 15th. It was attended by more than 150 people including the participants, family and friends.
This contest started 12 years ago due to the hard work of the Editorial Board members of Veritas magazine along with the College's Vice President of Communication and Image in order to strengthen the ties between the College and young university students, and to let students express their ideas and academic vision regarding the accounting profession. Moreover, this contest has succeeded to resonate with the students' desire for professional success.
The Story Behind the Contest
The contest is named after Accountant, Carlos Pérez del Toro, the College's president from 1970 to 1972 and the Dean of UNAM's Faculty of Accounting and Business Administration from 1966-to 1970.
During his professional, collegiate, and academic career, he was a promoter of research on accounting topics and always maintained a tight relationship with young university students.  To celebrate his achievements, it was decided to name the contest after him.
Interest in the contest by university students has been on the rise. When the contest started in 2006, only 15 essays entered, but now in its 12th edition, 168 essays were received and 17 institutions of higher learning in the metropolitan area and affiliated to the National Association of Faculties and Schools of Accounting and Business Administration (ANFECA) Region 7 participated.
It must be pointed out that the essays are written under a pseudonym so that the judging committee does not know the institution from which it originates.
The participants  presented original and creative essays regarding current accounting topics and interests, for example:
1. Auditing
2. Accounting
3. Internal Control and Risk Management
4. Costs
5. Professional Ethics in Accounting
6. Finances
7. Taxation
8. Corporate Government
9. Financial Information Standards (NIE)
10. Budgeting
11. Complete Financial Reporting
12. Social Security
13. Technological development impacting the activities of public accountants
During this eleventh annual edition, ITAM won four out of five awards presented and nine of the first places.
Congratulations to our award-winning students!